If you read this blog regularly (or follow me pretty much anywhere else), you may have heard me bang on about threezero before. I freely admit that I just can't get enough of their output, and for good reason!
After all, what's not to love about incredibly detailed, lovingly produced and superbly screen accurate representations of stunning robots, eh? Yes, there's always the conversation about them being non-transformable but honestly, once you actually get your mitts on one of their figures, that's unlikely to be a concern for very long, in my experience.
They have three separate ranges when it comes to Transformers, although there's a bit of crossover in the character choices of their Platinum and DLX figures. Premium is by far the largest scale (with their Bumblebee Optimus Prime standing at 19 inches tall, as one example, and with 140 points of articulation) and comes with a price tag to boot. DLX is then a scale a little more in line with what most collectors might anticipate for their shelves (with the equivalent DLX Optimus Prime figure standing at just over 11 inches tall and boasting a still-impressive 53 points of articulation).
The DLX range has become a reliable source of beautifully produced toys, with an increasingly varied selection too. 2018's Bumblebee remains a considerable source of inspiration, but there are also characters from the other live-action films represented, along with recent War For Cybertron efforts.
MDLX is a little different in that they're original designs that pay heavy homage to the appearance of the Transformers characters from Generation 1, albeit with a significant overhaul by threezero's Art Director, Kelvin Sau. It's also the smallest range by far (the Optimus listed below is just 7 inches tall, whilst Bumblebee is a mere 5 inches!) but packs a tremendous amount of detail and articulation into a condensed package, based on the one release so far!
Anyway, enough with the intro; if you aren't convinced by now, perhaps you never will be, but if there's even part of you that's intrigued to see what else they have on the horizon, just look at this little lot…
#12: DLX The Last Knight Optimus Prime
The Last Knight is in many ways the worst of the live-action Transformers films (in my humble opinion, anyway), but I can't deny that there's something about this Optimus Prime design that continues to catch my eye! It may be too overly humanoid for some people's tastes, yet it remains oddly striking by my estimation, and it's one that I simply cannot wait to see realised in DLX form by threezero come the fourth quarter of 2022.
There have been some impressive MP-styled attempts at this design before, but as good as they are, I can't help but feel this non-transforming effort will be the ultimate representation (minus the alternate mode, of course). Something about its nature seems to lend itself that way, perhaps! The DLX figure will be 11.2 inches tall and can claim an almighty 73 points of articulation, so expect this one to get a lot of photography time once it lands!
#11: DLX The Last Knight Optimus Prime
Before Optimus is on the way, we have another character design from The Last Knight to look forward to, with a rendition of that film's Bumblebee also looking pretty hot from the promotional photos thus far! Many fans may have moved their focus onto the 2018 movie and beyond, but this one should prove interesting to see up close, especially with all that gorgeous mechanical detail.
At 8.5 inches tall and with 60 points of articulation, Bumblebee also scales perfectly with the Optimus listed above, so they'll make an excellent double act. This one lands around November time.
#10: DLX Revenge of the Fallen Jetfire
threezero figures may not typically transform (unless you count stuff like the Ravage that accompanied the DLX Soundwave release), but in this case, they can combine! Yes, the DLX Revenge of the Fallen Jetfire figure looks absolutely stunning in its own right. Still, surely it's the fact that you can merge it with the recently-released ROTF Optimus Prime to make the celebrated 'jetwing' super mode that takes the biscuit!
Impressive stuff all round! Even by himself, Jetfire promises to be a worthy purchase, stepping up at 15 inches tall and with 65 points of articulation. Cannot wait.
#9: MDLX Optimus Prime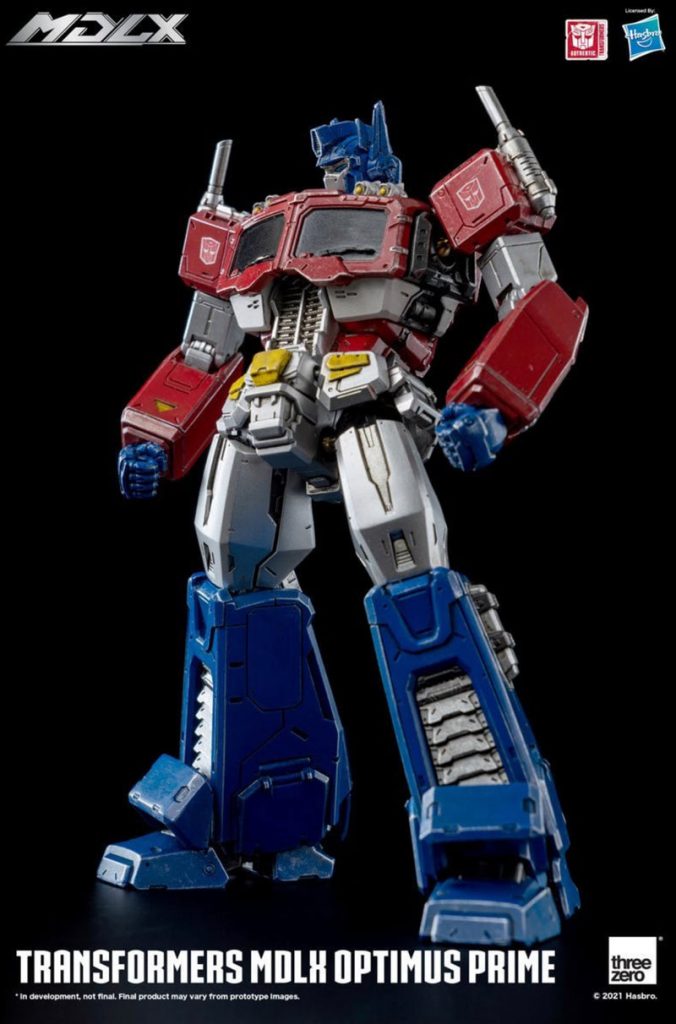 Now we move towards the MDLX figures on the way, the first being the inevitable Optimus Prime of the line! We've already seen plenty of fantastic photos, but still, this is one I cannot wait to have a proper go with myself when it lands around June this year – not long to go now!
As mentioned, this Optimus is only 7 inches tall, but it promises to be a real showstopper and still packs in 48 points of articulation to its reduced stature. The design also appears to be classic Prime but with a definite stylistic overhaul and should prove a fantastic accompaniment to the excellent Bumblebee release from earlier this year.
#8: MDLX Megatron
We haven't seen them in plastic form yet, but threezero have recently teased the subsequent few figures in their MDLX line-up, including a line-art first glimpse of the upcoming Megatron. He looks suitably on-point versus the two toys so far and takes numerous cues from his classic G1 appearance, including the gun barrel on his back. It will be interesting to see what they do with the colour scheme (grey helmet or black?), but I would expect this to be a popular one either way!
#7: MDLX Rodimus Prime
The second MDLX release to be teased is Rodimus Prime, which is the first time threezero has tackled the character in any iteration. He looks to have some very heroic proportions going on, but there's little doubt they've captured the classic traits of his familiar G1 design. Again, the colour scheme intrigues me with this one – I'm sure he'll be red but threezero, please, what if he was pink?
#6: MDLX Starscream
We already know that there will be "many more MDLX figures coming soon", but we've had initial confirmation that at least one of those will be Starscream! It makes sense, especially as there will presumably be Skywarp, Thundercracker and many more Seekers besides, but still, this is one I am looking forward to seeing soon.
#5: DLX Revenge of the Fallen Megatron
Moving back towards DLX, there have been quite a few new character choices confirmed, showing that threezero is expanding their horizons yet again! Continuing with ROTF for inspiration, they will be working on a Megatron from the second film alongside the Optimus Prime and Jetfire figures. Imagine how impressive those mangled metal panels and tank-tread feet will look with threezero's signature weathered finish!
#4: DLX Dark of the Moon Shockwave
Like the above, the confirmation of a Dark of the Moon Shockwave in DLX form was enough to intrigue me! It's a highly celebrated design, even by people who typically don't rate the films with much regard, so it should catch a lot of interest when it's unveiled. I suppose we might even see an attempt at the Driller monster he partners with during the film, although logic says that's probably unlikely, given the comparative size required!
#3: DLX Age of Extinction Lockdown
Another DLX tease comes in the form of Age of Extinction's fan-favourite bounty hunter, Lockdown. Many fans will tell you that he was a definite highlight of that film, standing out despite its otherwise muddy storyline. The character's design is really striking anyway, but I'd expect this one to come with all manner of accessories, including the green battle mark and (hopefully!) some sort of attempt at the infamous gun-face too!
#2: DLX Bumblebee Arcee
Proving yet again that the opening three minutes of 2018's Bumblebee might be some of the most extensively mined creative material from the Transformers' franchise's near-forty year history, threezero has also confirmed they have a DLX Arcee on the way, too! I can't wait for this one, especially as it feels a world away from the other characters so frequently being represented. Will this mean that the likes of Wheeljack, Ratchet and Brawn get a similar treatment? Time will tell!
#1: DLX Rise of the Beasts (TBC)
And finally, we have a tease that there is a DLX representation of at least one of the cast from the upcoming Rise of the Beasts film on the way, to absolutely no one's surprise! Good money says that there'll be an Optimus Prime figure, for starters, and I'd expect a stab at Bumblebee too! However, it could be exciting to see Scourge and maybe even some of the beastly characters given their due, should the opportunity arrive.


So, that's our list! Which of threezero's figures are you most excited for?
TTFN