Welcome to the TFsource Wholesale Club!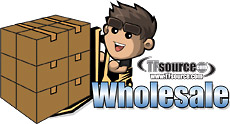 Welcome to theToySource Wholesale Club! For years TFSource has been a leading supplier in import and hard to find Transformers toys and we are taking that expertise to our new online site for wholesale customers!
The first step in getting set up is completing the application for a wholesale account. A government issued tax ID is required and please allow up to 5 business days for a response. We also encourage all store owners to also send a picture of their storefront to curt at TFsource dot com for verification of your retail storefront.
Why Wholesale through TFSource?
Quantity - Importing goods requires a minimum amount of quantity that is often quite beyond the means of most individuals (or too expensive on small quantities to make any profit after all costs are considered). TFsource Wholesale Club makes it easy with low minimums (in most cases just one case minimum order)
Selection - We offer a full selection on preorder merchandise, as well as in stock items
No Barriers - Dealing direct may require fluency in another language, cultural understanding, knowledge of supply chain logistics and hurdles, and much more, we remove these barriers by simply utilizing us as your "Source"
Quality of Service - We have a long history of importing product, as well as a well trained team to handle any size or quantity of order. We offer extremely quick turnaround times, and with our well trained fullfillment team ready to respond FAST once the goods are received stateside, you won't miss any sales potential with our quick turnaround time.
Shipping Options - We can ship using your preferred shipping method worldwide, and utilize your account, or our own, offering you control over how the goods get from us to you
Experience - We're known as a trusted resource for both individuals, as well as wholesale customers, having many customers both on the web and who run brick and morter shops who rely on us as their source.
An Advanced Online Ordering Portal - No one else in the business offers as advanced an online ordering system as we do. Easy to use, and we're continually adding more features to make things easy for you, giving you back critical time back that you can reinvest on driving your business
Order Stacking – save on shipping every day by combining merchandise and orders to minimize your freight costs
We utilize every option, to make this a profitable and beneficial relationship as a trusted partner to TFsource. If you're interested in joining the TFsource Wholesale Club, contact us for more information including the option to join our wholesale mailing list.
For any specific questions please contact Curt at TFsource.com for more information, if interested we encourage everyone to apply below!
Sincerely,
Curt & the TFsource Team