TFsource FAQ's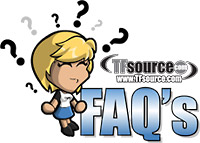 Payment Options
Q: What payment types does TFsource Accept?
TFsource accepts all major credit cards: Mastercard, Visa, American Express, Discover Card and Debit Cards.  We also accept paypal, money orders, and personal checks. Note that personal checks and echecks sent via paypal may take up to 10 days to clear and we will not post out your order until your payment has cleared. For payment via check or money order, please contact us to coordinate the money order⁄check payment option
top^
Q: What is the Pay Now / Pay Later payment option?
Pay Now ⁄ Pay Later allows you to choose if you want to pay up front for your preorders, or if you want to pay when each preorder item is instock. Pay Later is not currently available on instock orders, once every item on an order is instock your order will be charged in full.
top^
Shipping
Q: How quickly after placing an order does it take for my order to be posted out?
We usually post out all orders within 48 hours of receiving an order, the exception is on a preorder item just received instock.  There may be a delay on any order placed on an item just received, based on our volume of preorders. We ship out all preorders first, before instock orders placed. 
top^
Q: What shipping options does TFsource offer?
For shipments within in the US, we offer and USPS and FedEx shipping options. Internationally we offer First Class Mail, Priority Mail International and EMS. Please email us any special shipping requests. You can read more about our Shipping Options.
top^
Q: What does shipping & handling cover?
Shipping & handling covers the cost of the shipping charged by the carrier (FedEx or USPS) as well as any supplies required for each shipment. This includes packing supplies such as bubble wrap and the shipping box. 
top^
Q: What are the different shipping options for preorders?
With our preorders you can choose to combine ship all preorder items to ship out when all items are instock, or you can choose to have all of your instock items on an order ship out now. You can read more about our Preorder Policies.
Customers who want to manage when their orders ship out, are recommended to use TFsource's Order Stacking feature.
top^
Q: Does TFsource Ship Internationally?
Yes! TFsource is happy to ship internationally and some of our best customers are located outside of the US. We offer First Class Mail (dependant on weight), International Priority Mail and EMS shipping options at checkout, for international customers.  You can also read more on our TFsource Global Page.
top^
Q: What is order stacking?
Order stacking allows you to save money on shipping! To enable order stacking you have to have one preorder item in your cart, and then once your stack order is placed you can continually add items to your stack, and select when and how you want your instock merchandise to ship out, ultimately saving you on shipping! For more on order stacking visit the Stack FAQs. Order stacking requires having a credit card on file with TFsource.
top^
Box and Packaging Grading
Q: What is the difference between Mint Box and C9 Box?
A mint box generally has no noticeable flaws. This doesn't mean it is a C10 box, but that it doesn't have any significant damage to the box. It still may have wear to the window, and a small amount of wear to the box that is noticeable upon close inspection. A C9 box is still considered very displayable and may have a kink, ding, minor fray to an edge, etc. The box is still case fresh and unopened with factory sealed tape on both sides. A mint box also includes professional wrapping, to protect against dust and damage when stored in your collection. A c9 box does not receive this special treatment. 
top^
Q: What if I'm not happy with the box condition I receive?
TFsource holds the highest integrity when selecting a specific grade to fill an order.  However box grading is very subjective and we do not guarantee our grading standards and all customers will be the same.  Therefore if a customer is not satisfied with the box condition they receive they may return the package and pay for additional postage to send out another piece, based on their request. We also will not accept any requests for a C10 box, as by nature all boxes are flawed and a C10 box exhibits no flaws. 
top^
TFsource Merchandise
Q: Does TFsource buy toys?
Yes! TFsource purchases everything from large collections to single toys, for more information on what we buy, visit the  Sell us your Collection page.
top^
Q: What if I see an item I want to order that TFsource isn't currently carrying?
TFsource is always open to stocking new items.  Please contact us regarding any product you would like us to carry and we will check into its availability and the possibility of our carrying it. 
top^
Q: What is the personal assistant?
On any item that is out of stock, or a preorder, the personal assistant will notify you when an item is instock! Simply input your email address on any instock item that is out of stock, or on any preorder item, and the site will automatically email you once the item is instock! Great for not missing out on hard to find items that sell out quickly. 
top^
TFsource Returns and Order Cancelation Policy
Q: What is TFsource's Return Policy?
Unopened Items: Unopened items may be returned to TFsource up to 10 days from your receiving the purchase. TFsource will refund the cost of the item, however shipping fees to you and return shipping fees will not be refunded. In the case of free or reduced shipping costs for orders that meet TFSource's free shipping criteria, the actual cost of shipping will be reduced from the amount refunded on all returns.
Manufacturers Defects: Items with manufacturers defects may be returned to TFsource and a replacement will be sent once the defective item is returned. TFsource will also cover the cost of return shipping, as well as the cost of shipping out the replacement piece. In the case of a manufacturers defect there also may be other options available such as an exchange, or store credit as well.
top^
Q: What is TFsource's Order Cancelation Policy?
For instock orders TFsource may allow a cancelation of an order if it has not yet been processed, once it's been processed it cannot be canceled. In the case of a preorder, TFsource does not allow cancelations of preorder merchandise. However we do realize at times customers may be unable to pay for preorder merchandise, and we can work with the customer on payment plans or in certain cases a cancelation. TFsource reserves the right to refuse future transactions with any customer that cancels multiple orders or large amounts of merchandise. You can read more about preorders at TFsource Preorder Policies.
top^
Privacy Policy
Q: Will TFsource share any of my information? 
No, TFsource does not share any information provided to us via our website or through any other method with any 3rd parties.  We hold all customer information as confidential and you can trust that TFsource has a high level of integrity and accountability when it comes to protecting any information it collects from its customers. 
top^
Q: What information does TFsource store?
TFsource receives and stores any information you enter on our website or provide to our website.  For example, we collect information when you place an order through our site, register with us, ask to be added to our mailing list, etc. This information may include:
your name.
your mailing address.
your e-mail address.
your phone number.
TFsource may also store any information provided about other people, such as the name and address of a gift recipient. Customers may also select to keep a credit card on file for ease of shopping. Credit cards stored on file are stored in our credit card processing system, TFsource and its employees do not have access to this information, it is stored in our processors secure and encrypted system.
top^