TFsource Global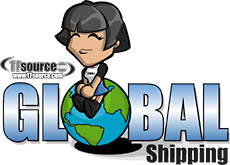 TFsource is happy to deal with international customers! Over the years international customers have become some of our best customers at TFsource, and as an international customer there are many reasons you should consider TFsource for all of your Transformer needs
TFsource Global – International Shipping :
Overseas Shipping Expertise – We pack and ship orders better than anyone, and this is a huge value to you when it comes to international transit. This ensures the greatest chance that an order shipped will arrive in the same condition it was mailed in.
Customs Experience – We will do our best to work with you regarding customs and VAT, but we cannot guarantee that our efforts will reduce or eliminate customs charges incurred on international shipments.
Multiple Shipping Options – You may select EMS, Priority Mail International or USPS First Class (for packages under 5 pounds). This flexibility allows you to select the best cost option, and delivery time.
To all of our international customers, we would like to thank you for your years of patronage and look forward to many more!
Over the years TFsource has had the pleasure of shipping to many countries around the world. The map below shows all of the countries we have shipped orders to and if you are a new customer and your country isn't shown we will be happy to have you as a customer and add your country to our map!